Alphascript Compounds Hand Sanitizer for Patients and Employees
Like many household and personal items in the age of COVID-19, hand sanitizer has been flying off the shelves. In order to address this issue, the FDA issued guidance that allows pharmacies to prepare (compound) hand sanitizer for consumer use.
Compounding typically involves making specialized formulations for medicine that isn't commercially available. At Alphascript, we compound medications for a variety of chronic, complex conditions like rheumatoid arthritis or organ transplant. Now, in addition to supplying these medications to our patients, we are also compounding hand sanitizer.
The pandemic has made the ingredients to prepare and package hand sanitizer difficult to find­­­. After a few weeks of searching and waiting for shipments, we were finally able to obtain everything necessary to begin making hand sanitizer for our patients and employees. Our hand sanitizers comply with the WHO-based formulas to ensure maximum efficacy.
Our first complimentary bottles of hand sanitizer were shipped out in patient packages last week. We will continue to provide this service for as long as we are able while the pandemic persists.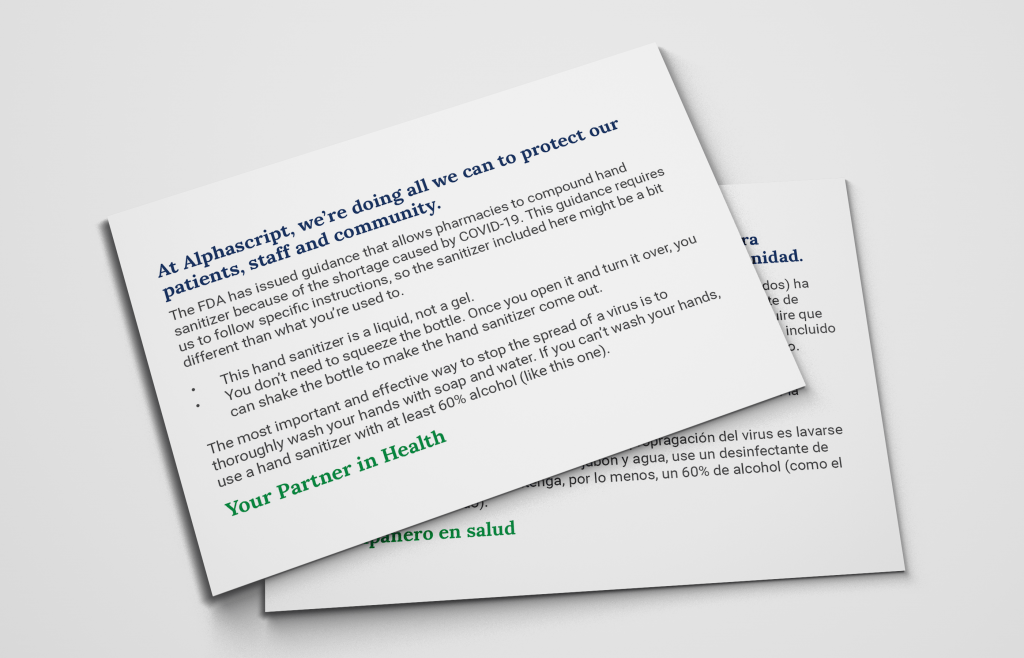 When and How to Use Hand Sanitizer
The most important and effective way to stop the spread of a virus is to thoroughly wash your hands with soap and water. If you can't wash your hands, use a hand sanitizer with at least 60% alcohol.
Hand sanitizer might not be as effective as possible if your hands are dirty or greasy.
To use hand sanitizer, apply it to the palm of one hand. Rub the sanitizer over the surfaces of your hands until they are dry.
Learn more about hand sanitizer from the CDC.
We prioritize the health of our patients every day, and we are happy to be able to offer just a little extra help in these difficult times.
If you have questions or concerns about the coronavirus, what you can do to lessen the spread or how it might impact your care from Alphascript, please reach out to us at info@alphascriptrx.com or (650) 412-4530.