Celebrating International Nurses Day
Every year on Florence Nightingale's birthday, nurses around the world are celebrated for their commitment and sacrifice. This year especially, the words "thank you" seem to fall far short of how we feel. The current global health crisis showcases the critical work that nurses undertake every day. At Alphascript, we are grateful to partner with countless incredible nurses to improve the health and quality of the lives of our patients. Today and every day, we are truly thankful.
To celebrate International Nurses Day this year, we're reflecting on Florence Nightingale's pioneering work and legacy.
Florence Nightingale: The Lady with the Lamp
Florence Nightingale is often hailed as the founder of modern nursing. Her work had a tremendous influence on healthcare in the 19th and 20th centuries.
By the time the Crimean War broke out in 1853, Nightingale was already an established nurse who helped improve sanitation practices and lower the death rate at the hospital where she worked. In 1854, when there were thousands of British soldiers in military hospitals, there were no female nurses stationed in Crimea. The Secretary of War, Sidney Herbert, sent Nightingale a letter asking her to put together a group of nurses to care for wounded soldiers in Crimea. She assembled a team of 34.
Nightingale's work at Scutari, the British base hospital in Constantinople, earned her the nicknames "the Lady with the Lamp" and "the Angel of the Crimea." She was often seen carrying a lamp in the evenings, providing compassionate care to patient after patient. By improving the sanitary conditions and patient services at the hospital, Nightingale's work contributed to lowering the death rate there by two-thirds.
Florence Nightingale's Legacy
Nightingale received a hero's welcome after returning to England in 1856. But her work wasn't done. In 1860, she funded the St. Thomas' Hospital and the Nightingale Training School for Nurses, one of the first schools to teach nursing as a formal profession. Though she was frequently confined to her bed after falling ill in 1855, she remained an authority and advocate for healthcare reform for the rest of her life. Her book Notes on Nursing: What It Is and What It Is Not has been in continuous publication since 1859.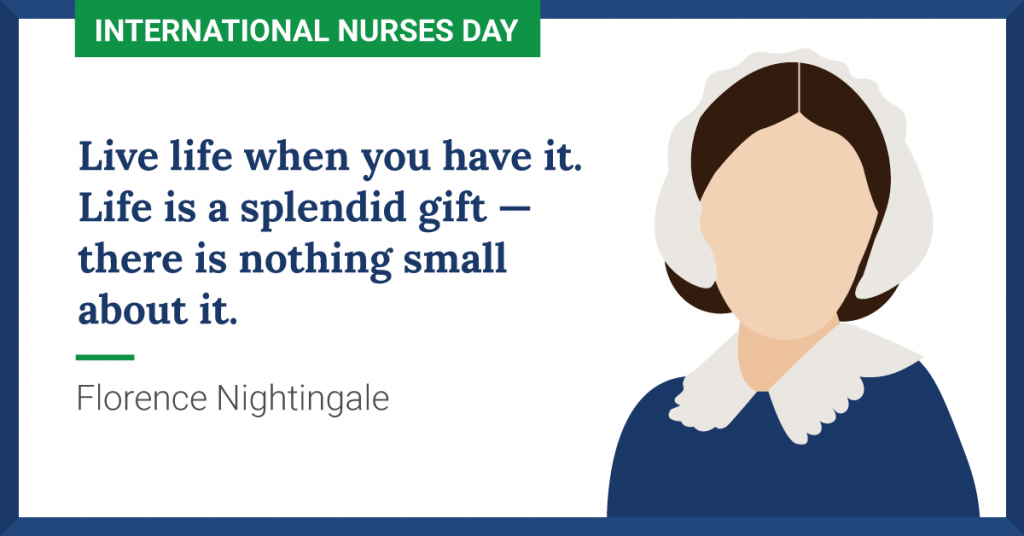 Celebrating Today's Nurses
Nurses play a critical role in patient care. Today, on the 200th anniversary of Florence Nightingale's birth, we want to express our profound gratitude for the work that they do and the care that they provide. Nurses are essential to our everyday health and our fight against pandemics like COVID-19. We depend on them every day for their expertise and compassionate care.
Thank you for your bravery and commitment.